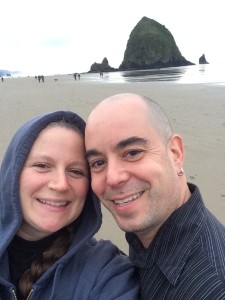 I've included as many pictures of us as I could find because, admit it, we are cute! LOL! Just kidding (sort of)!
We (Caroline and Dan) moved to Oregon from Connecticut in January 2014. We decided to move here on a whim. Not really any plan or jobs, just packed up and headed west. And, although, we miss our friends and family back east we absolutely love it here and will never leave.
When we got here we rented a house in Tigard (southwest of Portland). Initially, Dan was still working from home for his CT company and I was looking for an accounting job. Then in May 2014 he got a job working in Hillsboro, Oregon and I tried to start up my nutrition business. The nutrition business failed and I now have an accounting job in Cornelius, Oregon.
In September I happened to be looking on Craigslist and I found an ad for an awesome house in Gaston (about 1/2 hour west of our Tigard house) with close to three acres. I became obsessed. I told Dan and he said no, we were in no position to purchase a house. But I was relentless and we eventually settled all our concerns and we moved in late November 2014.
We started our mini farm immediately by purchasing 8 baby chicks on Christmas Eve and Dan built them an awesome coop/run.
Soon after that we decided to get alpacas (see alpaca page) and the latest animals we are going to be adding are blackbelly sheep. We are hoping that the animals will provide us eggs, fiber, and some income to help us support them. I am learning to spin yarn and knit.
Dan has been back to brewing beer and I will be dabbling in soap-making.