So I am back with more pictures of our goings ons in the last few months. Work got really crazy September through November and I am just starting to be able to breathe again…
Anyway… Introducing our latest family members…
Here they are on the way home from Washington. They are still little enough to fit in dog crate at this point. Shaun is in the front with Mara Jade in the back.

I had to take pictures using zoom as they were terrified of me in the beginning… Shaun is quite a bit bigger than Mara Jade but she is pretty spunky.
Then they warmed up to me. The picture on the left is Mara Jade and Shaun is on the right. He took a little bit longer to warm up to me. All it takes is some patience and, of course, noms.
Here are a couple of more pictures, with the alpacas and just looking cute. During the week they are separated from the alpacas but I let them into the pasture on the weekends. They follow the alpacas around everywhere, like part of the herd.
The plan, at this point, is to purchase two more girl sheep in April and also a wether (fixed boy sheep) to be a buddy for Shaun. The reason for that is we will need to separate Shaun from the girls until they are old enough to have babies and then they will be allowed to pasture together. We haven't thought of a name for the little wether yet so if you have any ideas, please leave me a comment.
Other things to note, rain has been relentless here in the past 2-3 weeks. Like breaking records here in Oregon. There has been flooding everywhere, although we have been fine as we are on a hill, our lower field has a nice new stream running through it. The alpacas have been enjoying the rain…
The alpaca on the right is Sunny, she is, normally, a very light beige, almost white. Totally gross.
On to arts and crafts!
I made soap! Here is all the oils (coconut and palm) being melted and then cutting the loaf into bars and, lastly, the final product, felted soap. We have been using the soap and it works pretty good! This soap was an unscented, natural soap made with the above oils and olive oil. My next soap will be scented with essential oils and maybe use an exfoliate or something. It was really pretty fun to do and I will also be selling these soaps on my Etsy's store for $3 as they are my first try. They are around 3-4 ounces each. I will get better at cutting a uniform size.
Some bad news to report, our beloved Beaker died a few months ago but we did get a new rooster to replace him. Meet Sam. He is a very polite rooster who takes very good care of his ladies.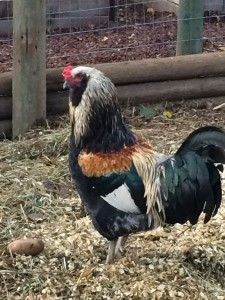 We did get to visit CT in November and got to hang out with our Manchester friends and watch the Road Race. I got to get a picture of me with my favorite little girl in the whole world! So awesome!
And came back to Oregon just in time for the Winter Brew Fest. So much beer! and fun! and friends!
And in closing, my garden was an interesting experiment this year. I had no idea that squashes cross-pollinated like crazy and the below picture is what happens when you cross a delicata squash with an acorn squash. Totally adorable but probably not edible.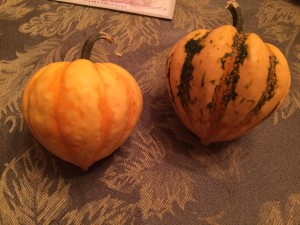 Until next time!