So it has been months since I posted, I am so sorry, but everything has been moving so quickly and now it's almost mid-October. I'll try to catch you up as best I can with the goings on at the farm…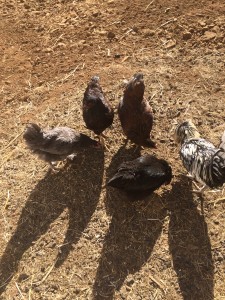 On August 1st I went to the Brownville Chicken Swap and bought 3 new chickens; Rose, a blue-laced wyandotte, Camilla, a barnvelder and Katie, a blue copper maran. Unfortunately, Katie injured her legs and we had to peacefully "take-care-of-her". The other 2 are still here though.
Also, this summer, we finally brought the 3 other girls home but in late August Tiara and Flirt had to go back to EasyGo Farm to be re-bred as an ultrasound proved them to not be pregnant. Kamatee is still here (the black one) and the other two should be coming back in the next few weeks.
The pictures above were taken at Cape Lookout at the Oregon coast. That was the most beautiful hike but Dan's fear of heights was in full swing.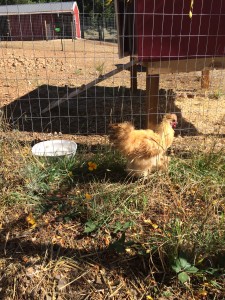 And here we have our newest rooster, Gonzo, to keep the garden chicken crew happy, although they mostly just chase him away any time he gets near them. He is a silky mix and I think he is awesome because it looks like he is wearing pants.
And here we have some pictures, just for fun, Belle, the chicken, riding on Sunny's back.
And today, for the first time ever, I have items up for sale! Check out my Etsy's page – Leaning Tree Farm Store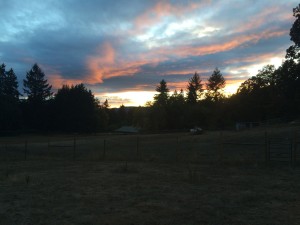 Sunset over the farm.
Until next time!