Last week and weekend was a flurry of activity; getting all the fencing done and having 2 of the alpacas (Sunny and Taiga) delivered to us on Saturday.
They have been spending these last few days exploring their new home and Sunday they got to head out to the field. They are loving the tall grass and fur trees. Taiga saw some deer in the neighbor's field and I got to hear her alarm call for the first time. I had to laugh because it sounds just like a squeaky chair. She didn't seem particularly upset but I think she wanted to go down the field and check them out a little more.
I am so excited to finally have them and I can't wait until the other 3 arrive in July or August.
Saturday was a big animal delivery day as we got 2 more farm/feral cats.
They are 2 tiny little black girls. I think their names will be Thelma and Louise but Dan had to point out the tragic end of the originals. I still like the names though…
And finally, chicken drama, because our farm would not be complete without the chicken drama.
I noticed a couple of weeks ago that one of the Austalorps was looking a little picked on on her head.
It didn't look terrible so I figured I would leave it and see what happened. Well this is what happened…
So now she is in chicken solitary confinement (nice to get some time to yourself) until she heals up.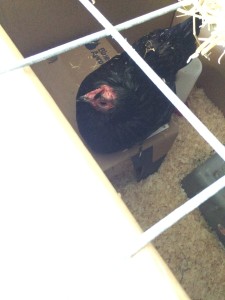 However, she didn't really like being in her safe and (I thought) secure box and while we were at work yesterday she decided to explore the garage. When we opened the garage door after work we noticed all the stuff all over the floor and the chicken poop. We immediately close the door again and go to look for her. She was back in her box, contently looking up at us, like she never left. Crazy chicken. Hopefully she will heal quickly and head back out to be with her family.
Oh, and I almost forgot to mention our other new additions. Dan went into a drawer in the garage and found this.
A nest of baby mice. Sigh. Of course I can't kill them so now they are living in a cage with their mother eating stale cereal until they are big enough to relocate away from our house.
I think we have our hands full at the moment.