So first of all, Alice the broken toe chicken update, I brought her to the vet and it was determined that the toe would heal and there was little risk of infection. Whew!
Now on to the rest of the weekend…
We are having an electrician come out this week to install electricity to our shed and barn so we needed to dig a trench from the house to the outbuildings. Dan had originally planned to dig this trench by hand with a shovel (approx 300 feet, 24 inches deep) until the electrician suggested he get a trencher. So on Friday Dan picked one up from the local equipment rental place and brought it home.
He got started right away.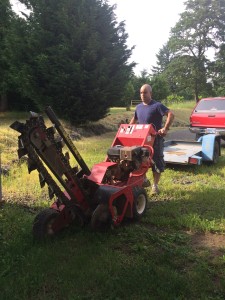 The trench was looking great and Dan was starting to get into the groove of things so I was off to go learn to spin.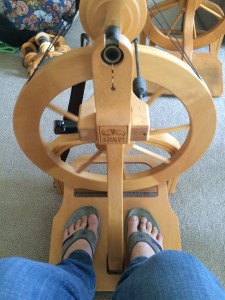 And then, disaster! Dan reached a point in the lawn where the clay was so hard that the trencher would no longer work. He only dug about 50 feet. We discussed and found an excavator online and called to see if there was any possibility of getting someone to come out and dig the trench on Sunday. And someone was! So Sunday morning we have heavy equipment in our back yard…
And then, another disaster! He hit the water pipe that goes from one side of the backyard to the garden area. My worst fear was realized! Dan managed to get the water to those spigots turned off but now we need to replace/repair the pipe.
And you can see from the pictures we have A LOT of rocks in the back field.
So now the back field looks like we had mines explode. Sigh. I suppose we will be happy when the electrical is in and we have lights and heated water bowls but for now it just all feels like regret…
Here are some other, random pictures from the weekend. We have screaming chickens and a beautiful dragonfly.