This weekend was very interesting! On Saturday we drove up to Elma, Washington to visit Bush Creek Farm and their flock of Barbados Blackbelly sheep. Rita and Tony have the biggest flock west of the Rockies. We spent the afternoon with them learning about the sheep and decided on getting 4 babies in mid-August, 3 ewes and a ram. My plan is to not have a plan, initially, and let them breed whenever they want. I am not sure how this plan (non-plan) is going to work out but we can always modify if situations arise. The sheep will be lawnmowers, any lambs produced will be a bonus! Here are a couple of pictures from the farm. This was one friendly girl!
While we were there we got to try a lamb chop from a ram they recently butchered. I have to say that it was pretty tasty and I felt better about eating it after Rita told me that the ram was a jerk. She said he was getting very aggressive and was a nervous fellow which is bad for the flock. So, now he is dinner. Barbados Blackbellies are meat sheep, not wool sheep. They grow long hair in the winter and then shed it in clumps in the spring. The girl in the picture is after the shedding.
In other news, we went over to EasyGo Farm on Monday to breed Tiara with AOO National Patriot. With a little coaxing, Tiara cushed (laid down) for us and actually didn't even want to get up when Patriot was done. I got this great picture of Dan encouraging her to get up.
She wasn'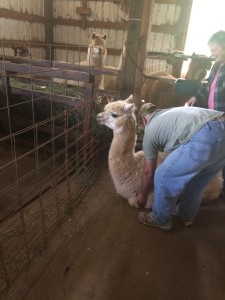 t budging though, so we just started talking with Linda and she got up on her own a little while later.
We also tried Patriot with Flirt and KaMatee but he was spit off by both girls. Flirt was bred on May 10th (Mother's Day) and KaMatee May17th so it appears  that  both girls might already be pregnant. YAY!
Two of my alpacas (Taiga and Sunny) are coming home on (hopefully) June 6th after their shearing.
And lastly, chickens. Alice, a Barred Rock, has a suspected broken toe. Now I believe it's been broken for about 2-3 weeks but I wasn't worrying about it because the skin wasn't broken, it was just crooked and, well, she is just a chicken. But this morning when I went out to check on them her foot was bleeding everywhere from, what looks like, an abscess. Yuck. So I called the vet this morning and I am bringing her in tomorrow evening. She is only 5 months old and I do like her so I feel I should at least try to make her more comfortable. Hopefully, I don't spend a fortune doing it.
In other farm news, Dan is getting a trencher this weekend to dig the trench for the outbuilding electrical. I have a bad feeling about all that but I am headed over to Alpacas of Oregon for some yarn spinning lessons with Suzanne Campbell so I won't be around for any cursing or frustration.
The barn is looking great! Dan started working on the hay feeder and we are getting the stall mats this Thursday. The only things left to do are the barn partition and the interior fencing.